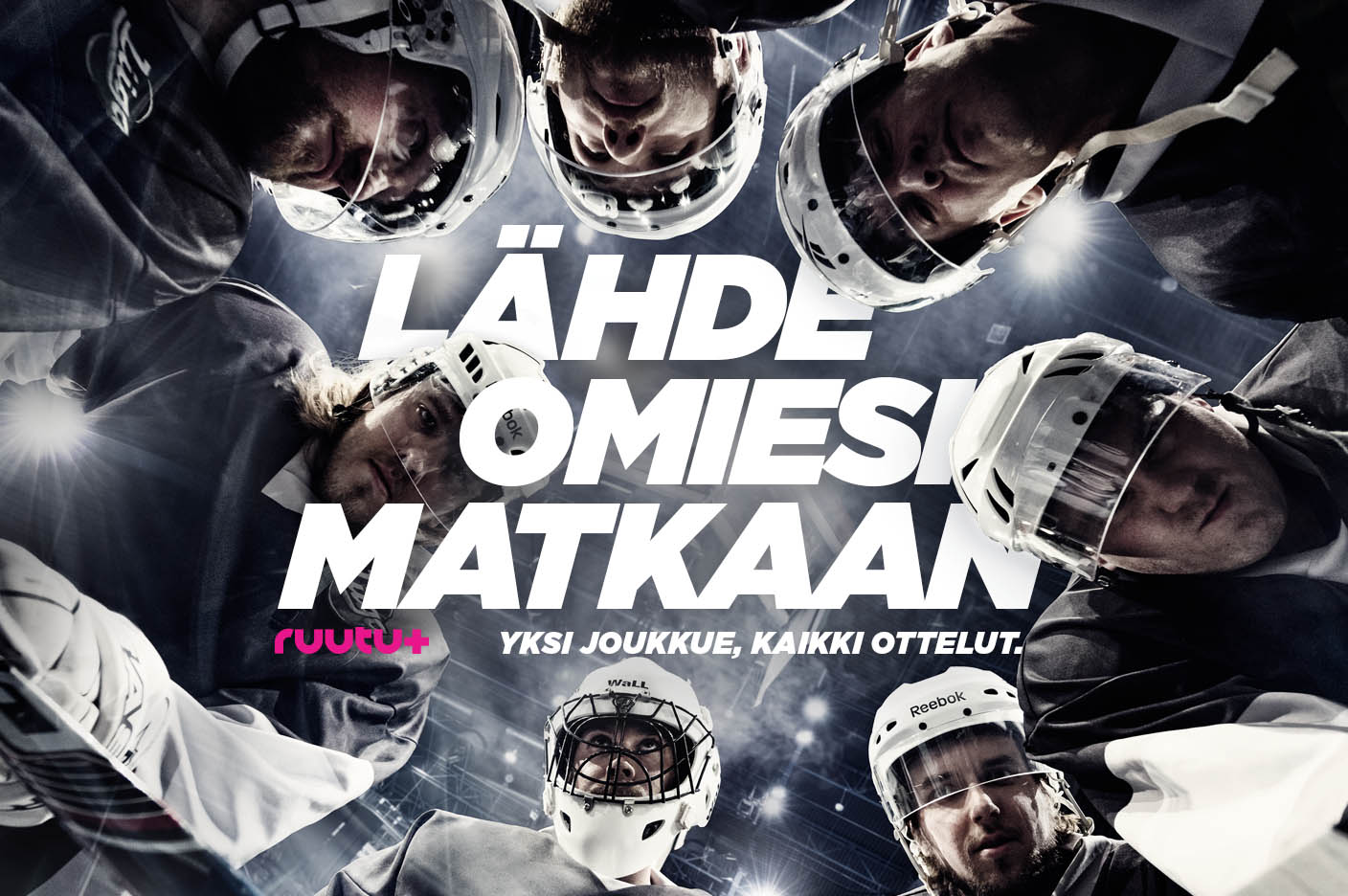 STARTING POINT
Nelonen Media has been broadcasting every single Finnish Hockey League game, since 2013.
Contrary to expectations, Ruutu viewership remained far too low, and low turn-outs can be seen at the arenas. In addition to the media reporting the loss of audience participation, they said that the entire hockey league was in crisis. Despite all of this, Nelonen Media set ambitious goals for growth in viewer subscription.
STRATEGY
In addition to targeting the diehard hockey fans, the campaign was extended to include all who are interested in hockey. Previously, advertising campaigns were based on dude-humor.
Currently, Ivalo has focused on emotions, passion, excitement, combat and unity. With this approach, Ivalo was able to generate a new and untapped consumer need.
The advertising campaign was primarily web-based, where fans can purchase online game broadcasts. The advertising was custom tailored for individual team cities, which targeted the local fans.
The campaign focused on one point: Be One with your Team!
The idea was to take the viewer into the heart of hockey, on to the ice, to fight side by side with your team. The perspective of the videos were in first-person, so the viewer was one of the players. This approach was used in video and in radio.
The majority of the advertising budget was invested in online media.
For social media, extended versions (87 seconds) of promotional videos were produced, which were full of Hockey League stars. These videos, which were only produced for social media, were made to entice fans to share with other fans.
All of the special solutions provided by Sanoma were used in the online campaign, including video and motion graphic banners. In more traditional media channels, the key visual was represented by the first person perspective. The online presence was augmented by television, radio and outdoor advertising. In addition, television programs on Nelonen promoted the preseason as part of its content marketing. All of the advertising directed the viewer into the Ruutu Online Service, where season tickets could be purchased.
45 %
increase in season ticket sales from the previous season.
58 %
increase in online audience compared to previous season.
40%
increase in Ruutu's free online audience.
230 000
views of the fan version video of YouTube, Ruutu and Facebook combined.
The season ticket sales were increased by 45% from the previous season. (Nelonen Media's sales tracking system)
 
Ruutu+ Service online audience grew 58%, Nelonen Pro 2 service grew 16%. (Ruutu Service analytics and Finnpanel TV Audience Measurement)
 
(Ruutu's free online audience increased by 40%. (Ruutu Service analytics)
CLIENT
Nelonen Media / Ruutu
DESIGN
IVALO Creative Agency
PRODUCTION
Front Desk
Nelonen Media