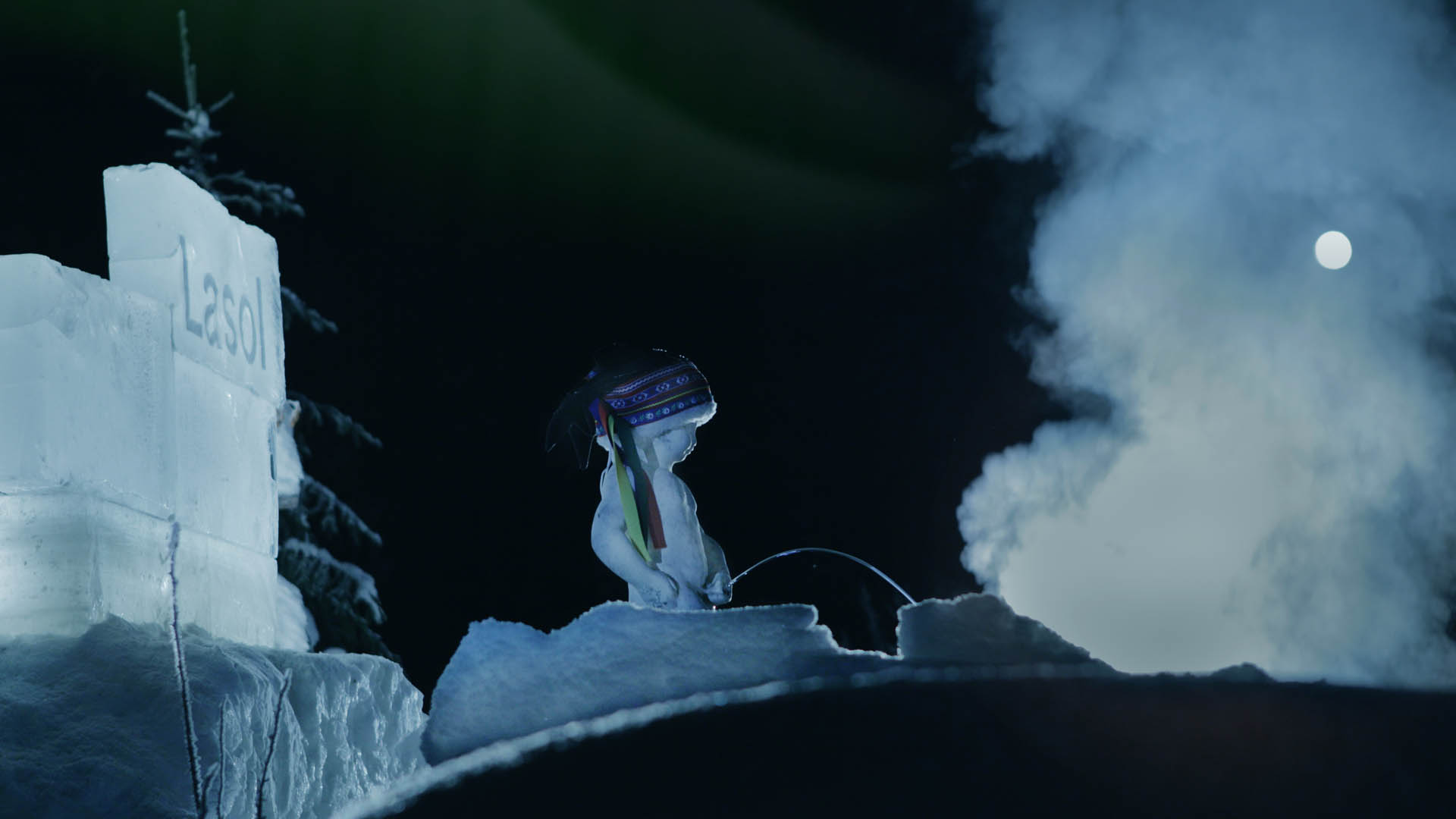 The Peeing Boy of Naruska
Problem
Lasol is the superior windshield washer fluid designed for Finnish conditions, as it doesn't freeze in winter temperatures. This is a well known fact by older motorists, but not by motorists who don't have a relationship with the Lasol story; the 25–44 year old demographic.
The task was to create a story that pointed out the Lasol competitive advantages, i.e. exceptional frost resistance, and that it is made in Finland. The goal was to reach the interest of the younger generation of motorists.
Execution
Ivalo Creative challenged the world's most famous peeing boy fountain (Manneken Pis) in Brussels, to not freeze during freezing conditions. We found out that Manneken Pis closes as soon as the temperature drops to freezing. So, we raised our own version of Manneken Pis in Salla Naruska, the EU's coldest location in the middle of January, and he was peed Lasol freely in -40 degrees Celsius. Also, we broadcasted a live webcam feed on the Lasol campaign website, in order to prove it's non-freezing properties. A documentary-styled video was produced for the raising of the statue, which was uploaded to Vimeo and Youtube. When everything was ready, we offered the Belgiums the challenge via the local media, in hopes of them covering the story of their Manneken Pis's northern brother.
The Belgium media became immediately excited, and after releasing the first articles, Ivalo contacted the Finnish media with headlines "The Belgiums are laughing at our Lasol Pee Boy". This kicked off a social media sharing frenzy. The news and advertising video spread like wide fire across both traditional and social media, and directed curious people for all across the world to the Lasol campaign website.
After the viral mania, a paid campaign was launched, which included online, television, mobile, in-store, promotional event, print and direct marketing. In addition, the story was brought to the attention of commercial buyers and service station owners, in order to help promote the Lasol product.
In the viral stage of the campaign, it made over 10 million contacts, and earned over 115,000€ in domestic sales. At year end, Lasol was the most well-known and preferred windshield wiper fluid brand in Finland.
220 000
views for the online video in just a few days
Over 30
domestic online media channels promoted Lasol's Pee Boy video